How to Exhibit
MusicVket4 is a music event held at the virtual space "VRChat". You can exhibit with just a music file, images and a video, with no need for VR devices, and promote your creations to many participants in the easily accessible venue that the virtual space offers.
| | |
| --- | --- |
| Date | June 18, 2022 ~ June 26, 2022 (9 days) |
| Place | VRChat and Vket Cloud, the smartphone/browser venue |
| Devices | Smartphones, PC, and HMD (Meta Quest series planned to be supported) |
| Exhibition fee | free |
| Entrance fee | free |
| Exhibit | Music sample |
※We plan to have around 200 exhibit spaces, with a lottery planned.
Key points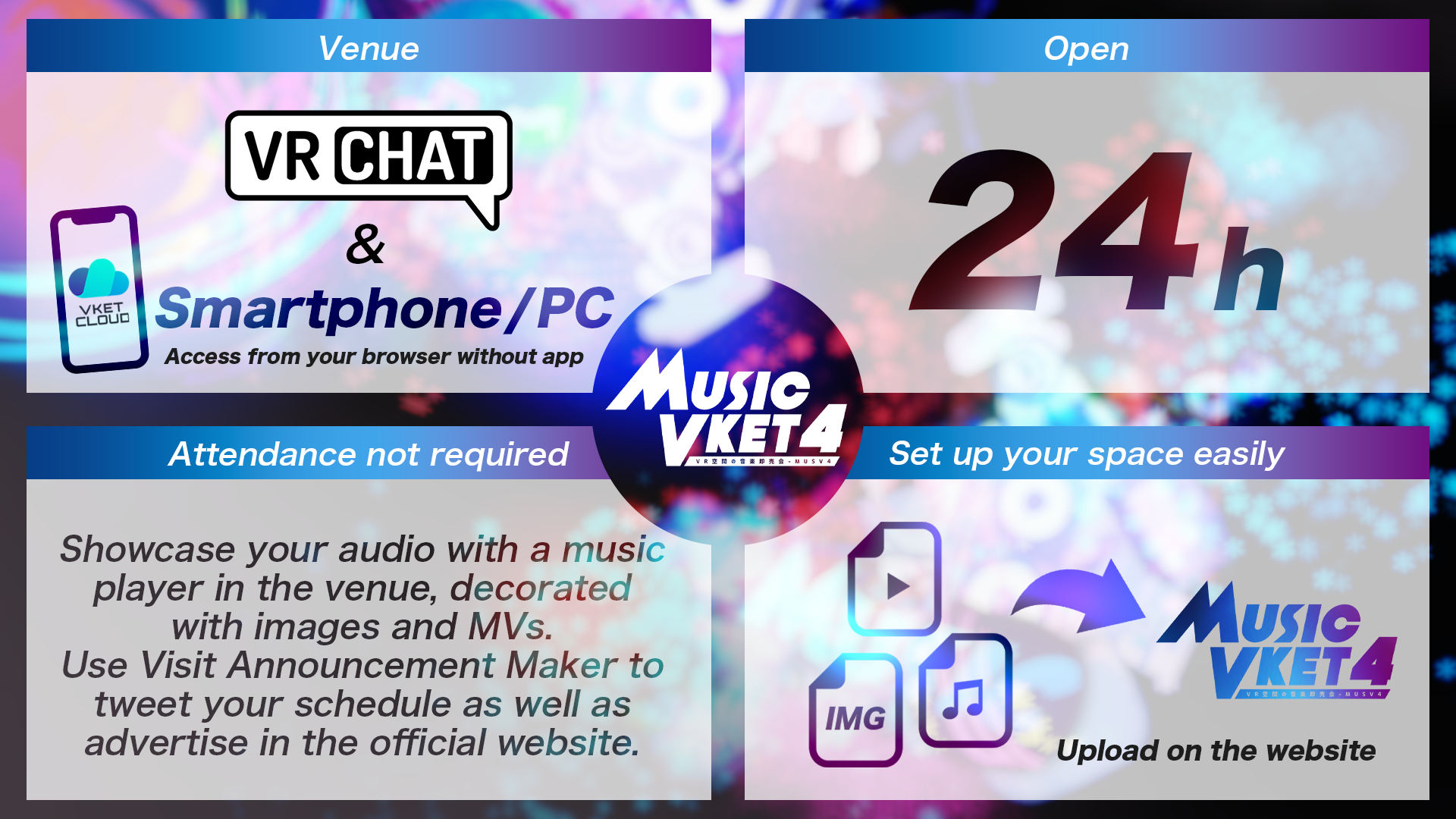 Virtual reality space "VRChat" and "Vket Cloud" is the venue
Use your smartphone or tablet browser, as well as your PC or VR device, to attend virtually. Wi-fi connection is recommended.
Open all time, 24 hours
Enter any time during the event period in principle.
No need for booth attendance
The exhibition space will have a link button to the download sales page on the Vket Store.
Of course, you can attend your space and interact with the visitors. It is recommendable to announce the time beforehand on social media or other means. The "Visit Announcement Generator," planned to be available on the My Page, will let you easily create an announcement image as well as post the announcement on the official website.
Submit promotional text, images and video and design your booth
With just uploading your PV/MV and images, you can design your exhibition space in the virtual space easily with your web browser. Visitors will experience your space as if it is really in front of them.
Participation from all over the world
Both exhibitors and visitors come from various parts of the world. It is recommendable to put multiple languages on your promotional images.
Completely Quest-compatible (planned)
You may enter every single venue world with Meta Quest series headset.
Schedule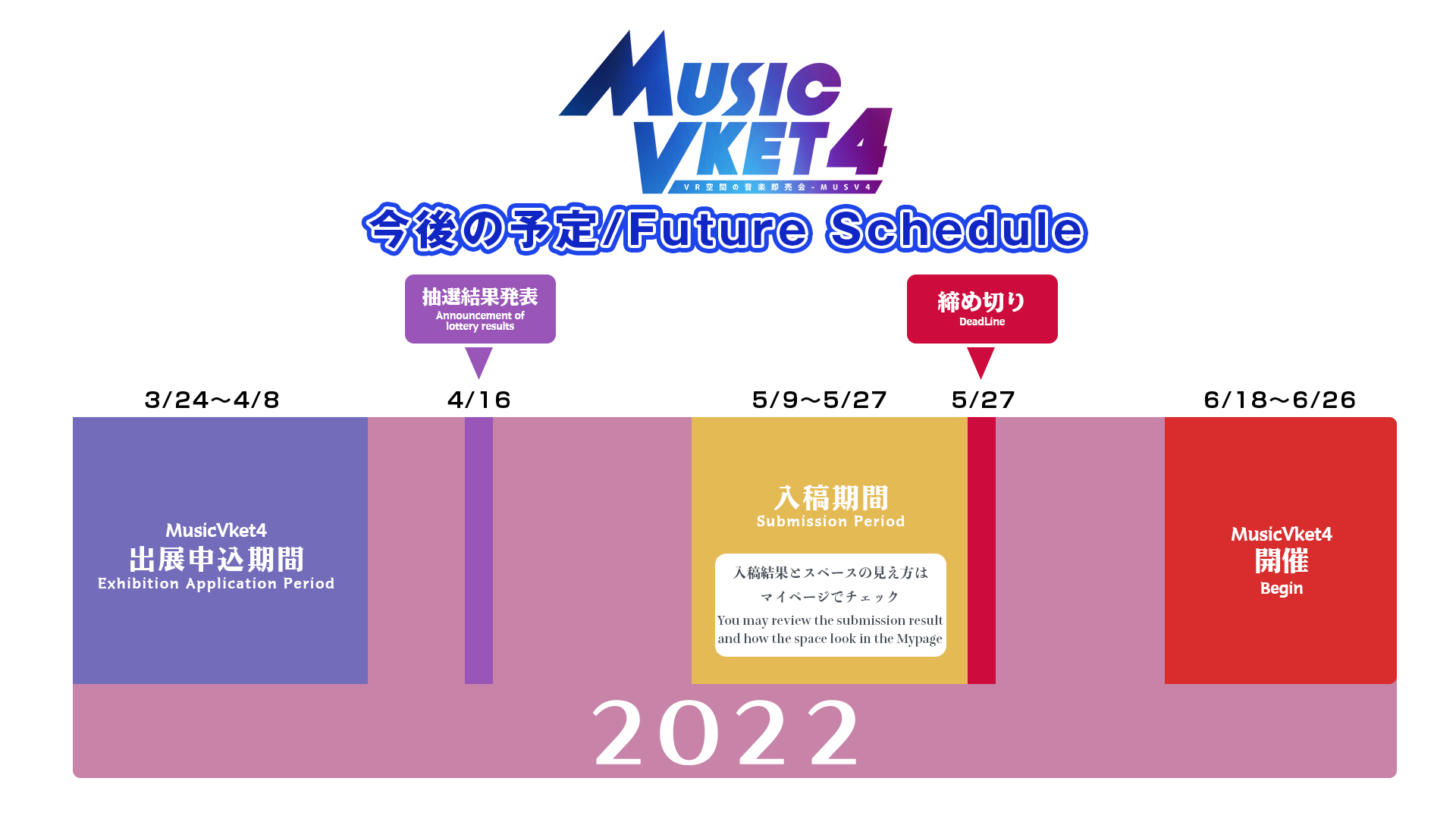 Once you are registered as an exhibitor, within the submission period please upload your data by following instructions in the submission form. The organizers will "set up" your space in the arranged layout.
| | |
| --- | --- |
| Exhibitor application period | March 24, 2022 ~ April 8, 2022 |
| Drawing result announcement (planned) | April 16, 2022 |
| Submission period (planned) | May 9, 2022 ~ May 27, 2022 |
What you can exhibit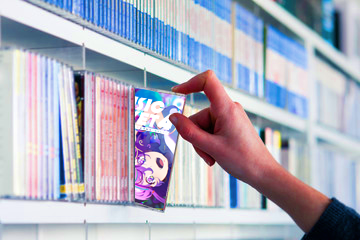 Indie musics
Music and sound works such as sound or radio play
Music works of your own creation
Derivative music works such as cover
※It must be for all ages.
※With regard to derivative music works such as cover, please refer to the terms, guidelines, and claims from the group or the individual of original works who own the intellectual properties of the original work and make your own judgment under your own responsibility.
※For details, please refer to the Exhibition Terms. Please read it through before applying.
How to exhibit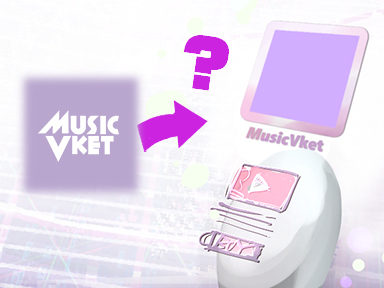 You may exhibit as a single individual or group of people forming a "circle". One representative may make exhibitor registration.
Only 1 space per 1 circle. You may not exhibit works by the same primary author at multiple circles, hence spaces. Please do not make "combined space" of multiple circles.
You may create the layout of your space on the website. You may submit data of music sample (ogg, wav), jacket image, menu image, panel image, promotional video and others in accordance with the rules and design the space from the website, which will be "set up" by the organizer.
Companies and corporates may not exhibit at the normal spaces. For companies and corporates exhibition, please contact us from here.
Please abide by the Terms of Service, Community Guidelines and other rules of VRChat, which is one of the venues. In particular, VRChat specifically announced that "We do not permit promotion, advertising, integration, or solicitation of unauthorized products or services like NFT or blockchain technology in VRChat.". As such, any exhibits in violation of this statement cannot be exhibited.
 
※Please refer to the Exhibition Terms for details about qualifications and exhibits. Please read it carefully before applying.
Example from the past event MusicVket3


How to distribute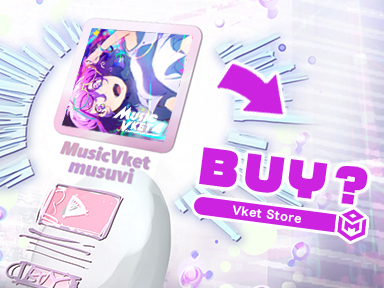 You can only have a single music sample per space.
You can choose both "download sale" and "physical distribution such as CD".
This time, we have abolished the platform restriction for download sales!
There will be a link from the venue and the catalog webpage to the URL of your platform.
Application process
A Google account is required for the exhibitor application.
If you do not have a Google account, please sign up for one first.
→Create Google account
① Check the Exhibitor's Guideline (this page).
Once you read through the guideline, please click "Login" on the top right of the website.
② Exhibitor registration.
There will be a "Google account authentication". If you already have a VketAccount, you may use the account.
③ Set up VketAccount
If you do not have a VketAccount yet, you will need to register a new VketAccount, which will be connected to your Google Account.
For Vket ID registration, please pick an ID consisting of only lowercase alphabets, numbers, and underscore "_".
④ Mypage
Once logged into VketAccount, you will see your Mypage. The page provides the information necessary for your exhibition and submission as well as the inquiry form for the organizers and profile registration. When the submission period starts, you can submit your exhibits and register exhibition-related information.
To sign up to exhibit, open "Exhibition Status" on the left side of the Mypage.
⑤ Exhibitor registration
The "Exhibition Status" page shows where you are on the course of the exhibition process. Please read the Terms and Conditions of Exhibition carefully and check "I agree to the Terms and Conditions of Exhibition" so that you can press "Apply to Exhibit" button.
※Your Vket account and your Google account will become linked. Please be careful if you have multiple accounts.
Contact
If you have any questions about the user registration, please contact from here or the MusicVket Discord server. After the registration you may send inquiries from the contact form in the Mypage, too.