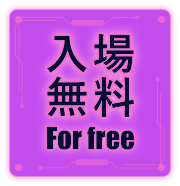 What is MusicVket?
MusicVket is a full music event in the metaverse space with more than 150,000 visitors from all over the world that began in 2020. The event showcases music composed by many creators and hosts live events by artists held in special concert venues in the metaverse.
News
2022.03.24

MusicVket4 Official Discord for exhibitors and visitors have opened‼ Join from here

2022.03.24

MusicVket4 exhibitor application has started! Sign up by April 8 JST: 11:59 pm, UTC: 2:59 pm, EST: 10:59 am!